New and improvements
Rendering
Real-time Caustics

D5 SR Image Rendering Acceleration (beta)

Light source shape display

Optimized GI for vegetation

Improved SSS materials

Improved edge effects of grass material

Improved clarity of images with resolutions over 2K
Features and optimizations
Support saving presets in Studio

Optimized video mode editing features

Section Tool

Advanced Camera Tool (beta)

Support displaying material names in brush records

Support high-resolution screen

Full-screen mode

Network proxy

Adjusted rendering preset resolution

Optimized operations in right sidebar

Optimized three-axis control

Optimized installation experience

Optimized statistics display

Optimized D5 account management security
Assets
New Interior Parallax assets
New xerophyte plants
New plant combos
New Asian characters
New Macrophanerophytes
New HDRIs
Added HD filter option
Added car paint material parameters for vehicle assets
Optimized effect of some plants
Optimized movements of dynamic characters
Optimized search feature
Adjusted classification of materials
Workflow
D5 LiveSync for SketchUp

Support restoring parameters of 3ds Max lights
Fixes
Incorrect reflection effect of glass reflected in water

Increased the number of stage lights limit to avoid fog effect problems

Some models failed to load after being exported and re-imported

Some brush plants cannot be erased using the eraser tool

The black and white colors of the images in the sky mask channel are reversed

The black color of video sequence frames in the sky mask channel turns gray

Multi-selection failure in Render Queue

Tyndall effect through glass

Incorrect colors in the sky mask channel

Corrected some interface texts
Detailed introduction to some features
Rendering
1. Caustics
Added Caustics effect to better simulate the light refraction and scattering in the real world.

Caustics: when light passes through a transparent object, the unevenness of the object's surface causes the light to refract non-parallelly, resulting in diffuse refraction and photon dispersion on the projection surface.
The new Caustics effect needs to be enabled in both materials and lighting by selecting the "Caustics" option.

Currently, only the "Custom", "Transparent", and "Water" material templates support Caustics.

The "Custom" material supports reflective Caustics, while the "Transparent" and "Water" materials support both reflective and refractive Caustics.

Only the four basic light sources support Caustics in lighting, and the Caustics effect can be adjusted through the intensity and softness parameters.
Note:
The Caustics effect and its independent UV of transparent materials is not compatible with Triplanar effect.

The number of light sources simultaneously activated with Caustics is currently limited to 64.

Caustics is somewhat resource-intensive, so please take this into consideration when utilizing it.
2. D5 SR Image Rendering(beta)
D5 SR (D5 Super Resolution), D5's self-developed super-resolution algorithm, is based on neural network super-resolution image generation algorithm and combined with multi-channel rendering feature maps. It significantly speeds up image rendering.

Turn it on in Preference - Widget, and when the image resolution is ≥ 1440*1440, D5 SR will be enabled.
Notes:
Currently, exr format export is not supported.

This feature is not yet supported for Intel and AMD series graphics cards.

While turning on D5SR speeds up image rendering, some details may be lost at the same time. Please use this feature according to your actual needs.

We do not recommend turning on D5SR for scenes that involve depth of field or other post-processing effects.

3. Light source shape display
In the light parameters, you can choose whether to show the shape of the light source.
After turning on "Show Light Shape", you can not only see the lighting effect, but also see the specific shape and size of the light in the scene.
4. Optimized GI for vegetation
The global illumination has been further optimized for better effects on plants, with richer and clearer details in the dark parts.
5. Optimized SSS materials
Optimized the denoising algorithm for SSS materials in real-time preview.
In version 2.4, SSS materials are affected by basic light sources and the sunlight. In 2.5, an option that allows Geo Sky's skylight and HDRI to influence the SSS material has been added to enhance the rendering effect of the SSS material.
Note: Enabling this feature can be resource-intensive.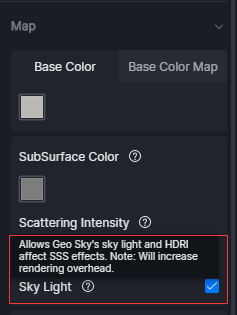 6. Improved edge of grass material
Improved the edge effects of grass material under some circumstances.
7. Improved clarity of images with resolutions over 2K
The clarity of images with resolutions over 2K has been significantly improved.
Features and optimizations
1. D5 Studio

Added a D5 Studio entrance next to the asset library in the upper-left corner of the interface.

D5 Studio is a cloud workspace in D5 Render, where you store presets and other resources to improve work efficiency and creativity.

D5 Studio currently supports effect presets, path presets and brush presets. After creating a preset, simply fill in the relevant information to quickly save it to My Space.
Effect Preset: In the scene list right-click menu, select "Create Preset". After filling in the preset name, you can store the environment and post-production parameters of the current scene as a preset in D5 Studio, which can be reused in other projects. Open Studio, click on the preset, and you can apply the effect to the new scene.

Brush Preset: Find the brush parameters in the lower left corner of the asset library tab, and you can save them as a preset to D5 Studio.

Path Preset: Select a path in the scene or resource list, click on "Create Preset" in the right sidebar of the path tool to save the parameters on the current path.
D5 Curated is a section in D5 Studio, which includes preset resources created by a group of outstanding designers. D5 Curated will be continuously updated to help users easily create high-quality scenes.

Data in D5 Studio is stored in the cloud space and associated with your D5 account. Even if you change devices or work remotely, you can easily access D5 Studio for your resources.
Note:
D5 Community accounts currently can save up to 5 presets and do not have access to D5 Curated.

D5 Pro accounts currently have 10G of preset file storage in "My Space", and are granted access to D5 Curated.
2. Section Tool
Added Section Plane and Section Cube to view the internal structure of the models.

Enable "Section Tools" in Preference - Widget, and you can then add a section tool from the top bar.

Supports up to 3 section tools added to the same scene to ensure rendering efficiency.

Supports adjusting the color of the surface and choosing whether to apply section according to layers.

With the "Fill" function turned on, the generated effect can be displayed after rendering, but real-time preview is not supported. To view the current fill effect, click the "Preview Fill Color" button for real-time preview.

When using the "Fill" function, please pay attention to the direction of face normals. Avoid incomplete edges of faces, overlapping or reversed faces, which can result in incorrect fill effects.
Note:
Modeling data synchronization is currently not supported.

Fill effects in video mode are currently not supported.
3. Advanced Camera Tool (beta) *
Added a new camera tool that can be independently placed in the scene. Go to Preference - Widget, turn on Advanced Camera Tool beta, and you can see the camera tool icon on top of the viewport.

It can be adjusted using Move & Rotate tools, to alter its position and rotate angle. With the picture-in-picture feature, you can edit the scene while previewing the composition and rendering effects from different perspectives.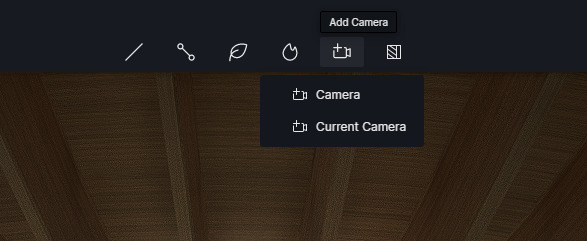 Supports setting custom shortcut key for creating and activating cameras.

In addition to the existing parameters such as focal length, field of view, and depth of field, it added more camera aspect ratio options, which allows you to preset ratios of 16:9, 3:2, 4:3, 1:1 and the vertical ratios. After activating the camera, you can control the camera from all angles, and save records with the scene list.

In the final rendering, you can directly adjust the camera's parameters for rendering to maintain the composition ratio.
Note:
Modeling data synchronization is currently not supported.
4. Adjusted rendering preset resolution
Redefined the resolutions corresponding to different ratio and size preset options to ensure that images and videos with the same options have consistent resolution values, so as to avoid inconsistencies that could occur during post-production editing.
Note:
In Advanced Camera Tool(beta) , the ratio parameter is the aspect ratio of the camera, which defines the range that the camera can see. The ratio parameter in image rendering is a secondary cropping of the frame range in the window.
5. Optimized video mode editing
Added Shots feature to make animation of differnent views in one clip. There are two ways to add shots:
Select Add New Shot - Current View, or click on Add Current View in the timeline to directly create a 3-second video clip. After navigating in the viewport, you can continue to add new views before/after this view, and generate a video with an ideal camera movement. Within a clip, you can create multiple shots, switch between each of them, and drag a camera to change the order.

To edit video with camera tool, you can activate the camera and add a view, or select the camera and choose "Add Shot/View" from the right sidebar.
Shots and views support copy and paste of parameters, which is convenient for quickly modifying the environment and effects. Batch update of all parameters is supported by right-clicking on the shot.

Added "Switch Timeline Display" in the upper right corner of the video editor so the shot panel can be expanded into timeline editing panel, and the display can be zoomed by holding Alt+mouse wheel.

Added "forward" and "backward" time progress controls, "previous" and "next" icons to jump to the previous, next view or keyframe, and jumping to start/end controls. These can be used with shortcut keys.

Automatic keyframe generation is replaced with clicking on keyframe button manually or pressing shortcut key K.

In addition to exporting the entire clip and adding it to the render queue, you can multi-select clips or shots to add to render queue.
6. Adjusted right sidebar
Supports batch parameter adjustment after multiple or mixed selection of models, lights, paths, and other types of objects with the same types.

7. Full-screen mode
Supports hiding all panels with one click to display the real-time window in full screen by pressing the shortcut key F9. Supports scaling window to a smaller size.
During modeling, you can use the livesync plugin to display modeling and rendering viewports on the same screen, to improve work efficiency. Full screen display is also supported in video editing. Press the space key to preview the video effect.
8. Optimized three-axis control
Optimized the three-axis gizmo control and adjusted the collision area range with the mouse.

9. Optimized installation experience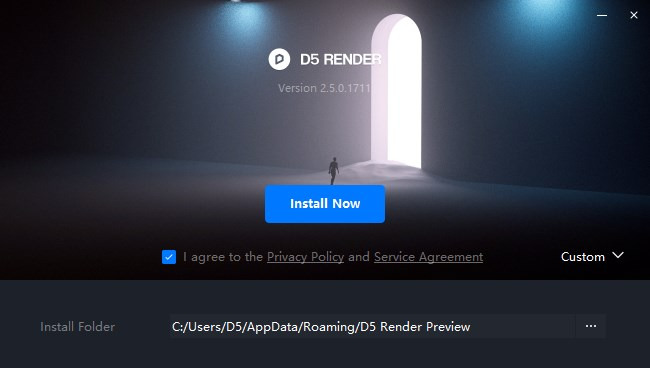 A small installation package, and the download and installation process will be automatically executed.

The installation interface has been adjusted, and in the custom installation settings, you can choose "Install for current user only" or "Install for all users". The latter requires system permissions.

It supports setting the asset storage directory during installation process, specifying the associated directory of assets, cache, local resources and other files.

If you overwrite the installation, after re-downloading and installing, you can't modify the workspace directory currently. After installation, you need togo to preference settings for migration.
Note:
Please ensure a stable network connection during the installation process.
Support displaying material name in brush records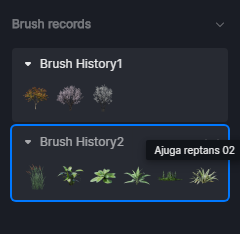 In the "Brush records" on the right sidebar, hover the mouse over the material thumbnail to view the specific name of the material.
10. High-resolution screen support

In Preference - Rendering, you can set whether the real-time preview window follows the screen ratio scaling. Enable it, and the preview window resolution will adapt to the screen scaling ratio in the system settings and fonts in the interface will appear clearer. Otherwise, resolution will be fixed.
Notes:
Turning on/turn this option takes effect after relaunching D5 Render.

Enabling this option on high-resolution devices such as 4K may increase resource usage while rendering, leading to operational lags and other issues.
11. Optimized D5 account management security
Enhanced the security of operations in account settings such as changing passwords.

Supports email security alerts when the account logs in on new devices.
12. Optimzied statistics display

Displays both VRAM and RAM
13. Network proxy
In addition to system proxies, you can choose HTTP, HTTPS, and PAC proxy settings.
In Preference - General, you can set different proxy options.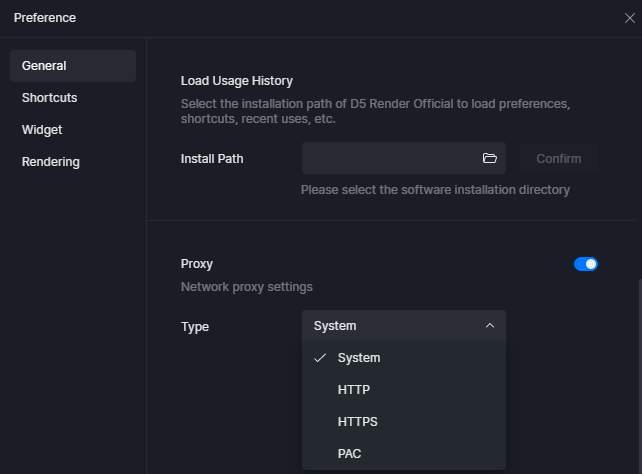 Assets
1. New Interior Parallax assets
Added 30 new "Interior Parallax" assets, including entrance hall, supermarkets, convenience stores and shops.
2. New xerophyte plants
Added 39 new xerophytes in Assets- Model - Nature - Xerophyte, including cactus, giant sunflower, aloe and so on. Enter the keyword "xerophyte" for a quick search.
3. New plant combos
Added 42 new plant combos and 27 matching flower pots and tree edgings, including flower pot plant combos, small stone landscapes, flower bed combos, and so on.
4. New Asian characters
Added 212 new Asian characters, mainly Asian women, as well as characters under the categories of "Business" and "Casual", including 173 static characters and 39 micro-dynamic characters. Enter the keywords "Asian" or "Chinese" for a quick search.
5. Added car paint material parameters for vehicle assets
Added car paint parameters for vehicle assets, clear coat opacity and clear coat intensity can be customized.
6. Added HD filter option
New HD (High Definition) filter option has been added to the asset library, to quickly find suitable models placed near the camera.
Note:
Adding HD models extensively or using them with brush/path tools can be resource-intensive.
6. Optimized search feature
Supports displaying search history to view previous searches. Added search suggestions, you can click on the tags to jump to the search results quickly.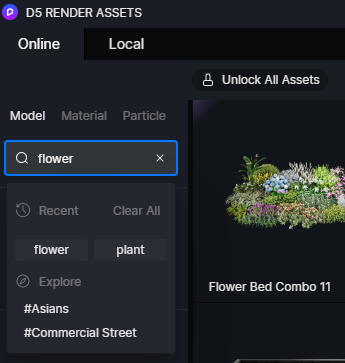 7. Adjusted material classification
The material classification directory has been adjusted. Added some classifications such as concrete, woven, SSS, etc., making it convenient for users to quickly find and use the materials.
8. Optimized effect of some plants
Optimized the shape, material, and dynamic effects of 43 plants including Photinia fraseri, Acer palmatum, Camellia japonica, and Osmanthus fragrans.
9. Optimized movements of some dynamic characters
Optimized the actions of 13 existing dynamic characters.
Workflow
Updated D5's Real-time LiveSync plugin for SketchUp to eliminate the need for manual clicking the update button. During the process of editing models, materials, and other data in SketchUp, it syncs in real time with D5. Experience the truly immersive real-time rendering while designing.
2. 3ds Max Light Restore Parameters
Select the synchronized light in the resource list, and click "Restore Sync Parameters" to restore the light parameters to their original state.
---

Special thanks to the following friends for their feedback and suggestions during the 2.4 alpha and beta testing, (some friends have also made great contributions, but we do not know your profile in D5 Forum, feel free to contact us via private message):
@Blend @sodapop66 @ivan_dedos @Glm @QuocPhan @arkitet3D @danivalus @Bot5d
@ Gallery @ Aymn _ Al - Haddad @ MOUGE @ Dragan @ bolbolegypt @ Bot3d (Discord)
To join D5 Render's Discord server, click on here: D5 Render .
If you like D5 Render 2.4, welcome to write a review for us on G2 platform, it will help us a lot:
Write a G2 review for D5 Render and get D5 Pro redeem code! - News - D5 RENDER FORUM