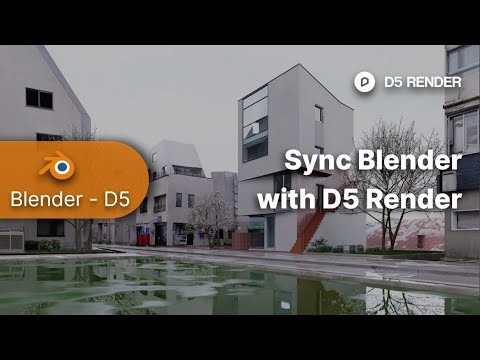 Supported versions
Blender 2.93LTS/3.0/3.1/3.2/3.3LTS/3.4/3.5/3.6
Download and installation
Steps:
After downloading the zip file through the link, please unzip it and you will get the installation package: D5_Converter_Blender_test_0.5.5.2.exe.

Close Blender. Double-click on the .exe to start installation.

After installation, turn on Blender and go to Edit > Preferences > Add-ons. Type to search for D5 Exporter. If the Exporter version is correct, then check the box to enable the add-on.

Notice:
By default, D5 Converter uses the same language as Blender.

If the D5 Render Path field is blank, starting sync will open the D5 Render launched last time automatically.
---
Features
Model/Material sync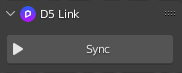 Click on "Sync" to launch D5 Render and send the Blender model with materials to D5. Real-time rendering starts.
If the model file has some changes, click on Sync again to reconnect to D5 Render and sync the changes.
Supported materials: Principled BSDF、Glass BSDF、Emission、Diffuse BSDF.
Incremental synchronization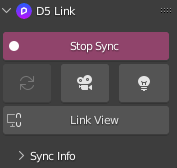 After the current model has been edited in Blender, quickly sync the new model and materials to D5 Render by the Sync button, while keeping the materials and scene parameters that had been adjusted in D5 Render.
Camera sync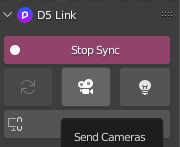 When live sync is on, click on the Send Cameras button to convert all Blender cameras into D5 scenes.

Camera name and collections are not supported for sync.
Light sync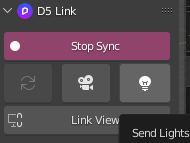 When live sync is on, click on the Send Lights button to synchronize lights (Point, Sun, Spot and Area) into D5 Render.

Supported light types and parameters:
| Blender | D5 | Parameters |
| --- | --- | --- |
| Point | Point light | Name, location, intensity |
| Sun | Spotlight | Name, location, intensity |
| Spot | Spotlight | Name, location, intensity |
| Area | Rectangular light | Name, location, intensity, scale, shape (square, rectangle) |
Notice:
Light groups, color, radius, and shapes (Disk, Ellipse) are not supported.
The light intensity does not support incremental synchronization, which means D5 Render reads that value only at the first synchronization.
View sync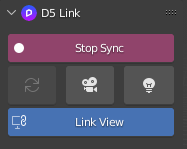 When live sync is on, click on the Link View button to keep the view of Blender and D5 Render consistent.

One click to turn on/off live view sync.
Export .d5a files

D5 Render cannot open .blend files directly, therefore we can export the models in .d5a format by D5 Converter for Blender.
Export the whole file or selected objects only.
Material bake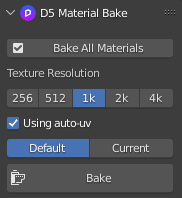 Bake all materials or selected ones only.

Choose different texture resolutions: 256, 512, 1k, 2k, 4k.

Sync the baked textures into D5 Render or export .d5a files.

Support baking Blender procedural textures.

Recommended to check Using auto-UV option: automatic UV mapping.

Default/Current bake settings: Default (recommended bake settings) Current (current Cycles settings).

Customize the output path of baked textures.

Uninstall
Go to Blender > Preferences > Add-ons, search D5 and find D5 Converter, check it and click on Remove.

Or uninstall D5 Converter for Blender from the Start menu directly.

---
Help
If you encounter any problems when using Blender and D5 Render workflow, feel free to visit D5 Forum, where you can read release notes and known issues/solutions, communicate with each other, and seek help from D5 Support.