HDRI moving up and down (already known)
Delete an HDRI inside D5
Colour and saturation setting
Larger previews
Thank you
Custom HDR? sure!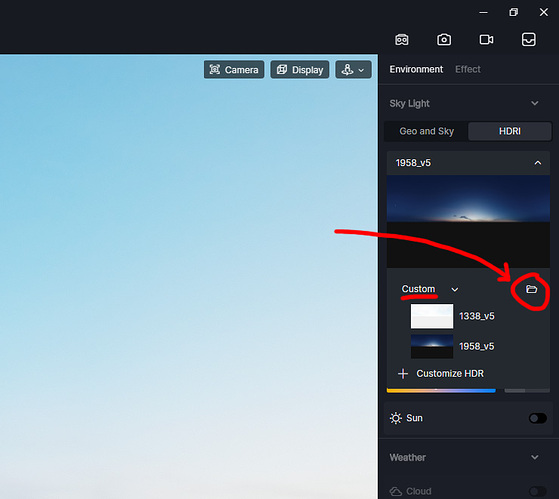 sets custom HDR.
click on the folder icon.
the window of dhr saving path in D5 opens. Delete the hdr file. Restart D5
end
got it! I'll let the product team know! thanks for your suggestion!
In addition, moving the hdr up and down is a very complicated function, which is difficult to achieve in principle.
Thank you,
I know this, but I thought, there is a way without restart.
(Click HDR, rightclick, delete)
Turning the global sky, without touching the HDRI?
At the moment there is turning in the hotizontal direction.
Vertical would be great.
Hi Flamingo.
I solved differently to place my project on HDRI. That is, selecting the project with all objects. Then you move it as you want, top, bottom right and left even rotating it, as if it were all an object inside the HDRI. But first you need to unlock your project. I'll give you an example of the last work I did in a gallery in a shopping center in Rome

To do this you need to have HDRIs in a good position for your project. And then be patient in moving and rotating with the camera.
I hope to have helped you in your future project



This is very interesting, but not very comfortable.
An interim solution.
Usually there is a sky dome with an HDR.
You should be able to rotate it in all directions.
The problem is that D5 is not a plugin, but external software.
It might be a while before D5 solves this problem.
In Cinema4D, this is not a problem as it has been around for a long time.
Nevertheless many thanks.
Your pictures turned out very well. Congratulations!
[quote="Flamingo, post:5, topic:7808, full:true"]
Turning the global sky, without touching the HDRI?
At the moment there is turning in the hotizontal direction.
Vertical would be great.
[/quote]

and maybe zoom but alone vertical would be great

Hi Ricardo. Is your HDRI 8k? Yours looked so sharp when mine is a bit blurry,
Hello Krschncrlo,
No it's not an 8k, I downloaded it from the hdri photos of the commercial center where the shop is located in that I was lucky.
But sometimes for other works I use Street View Download 360, and you can download them in different sizes.
If you have also seen the work of the shop in Milan, for example, I used hdri downloaded from Street View.
Again, it is not easy to manage hdri, this is explained in the previous message.
Then I don't put the files hdri, but in JPG format. the image gives me clearer without it being 2k, 4k and 8k. It's not the size and quality of the image but I think it depends on the D5, it always had this problem.
I hope I have helped you in your work.
Sorry for the English translation, I'm Italian.
I salute you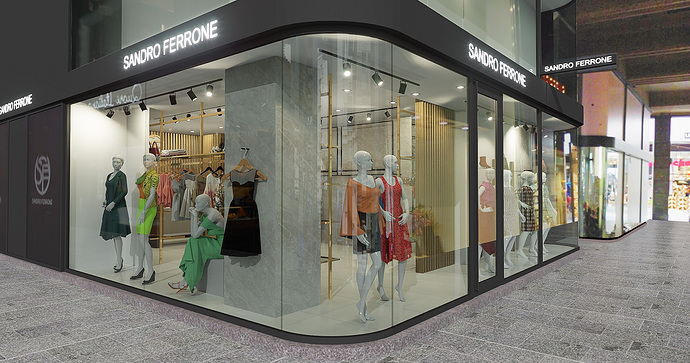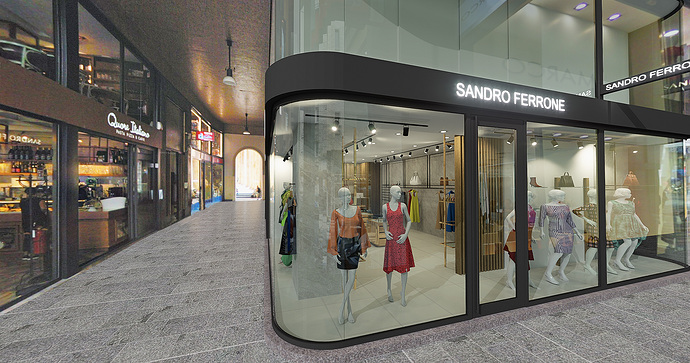 Actually we have 32k HDRI we could use but I think D5 is limited to 8k at the moment and yeah I noticed that I get better results with JPG format too but still not quite too happy with it, so I just replace the background in photoshop every time.
HDRI render from D5: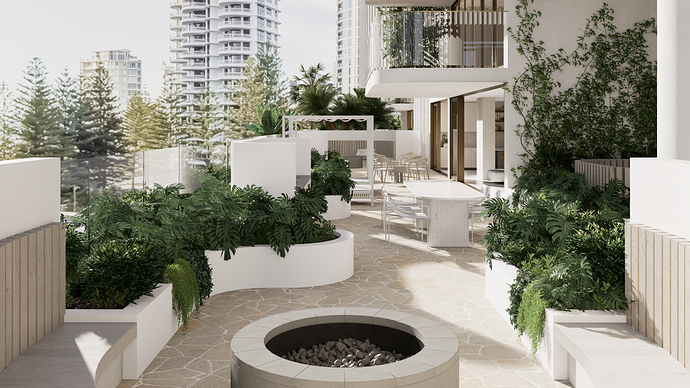 Photoshoped HDRI render: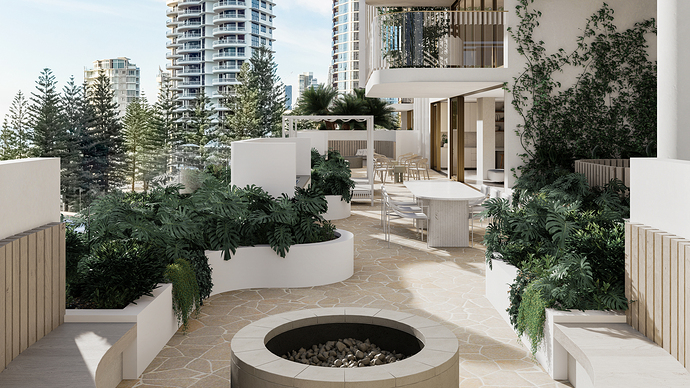 Our main issue is when we have to deal with something reflecting the hdri - in this case glass panel - which really is a pain to replace in photoshop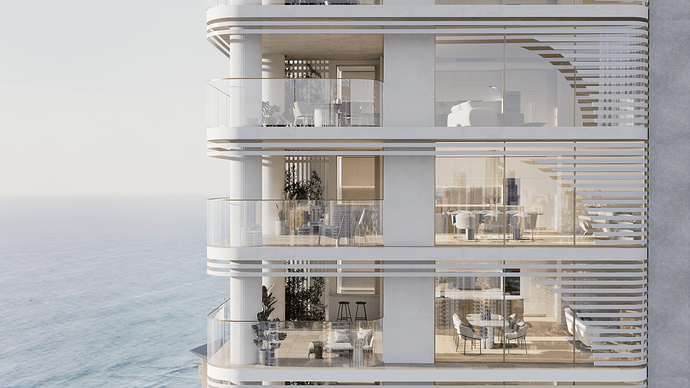 Anyway, thank you for your reply. I think you did a really good job projecting your model to your HDRI.
I salute you too

Yes, I remember these beautiful pictures you posted, in the first one you had problems with the garden and it seems to me, if my memory serves me right, an answer from D5.
You are right about the reflection but it seems to me that D5 is working on it, another colleague also had this problem with 2D human figures.
But I'm used to solving problems by acting on the obstacle, I'll give you an example, if HDRI has this problem that you told me I insert in the project a circular object with my background cut out, but in PIG because with the transparency symbol of the image of D5 I can match the background of the sky in different ways.
It's hard work, but you have good results, and you don't use Photoshop.
Hi, Riccardo




Hi Riccardo, I just tried the circular background cut out like you said. It worked really really well and actually it looked wayyyy better too! And the fact that I can use different sky is just

!
Thank you so much for this.
Carlo

Hello! I didn't understand the algorithm … Please make a video lesson on YouTube or Vimeo. A dirty gray line below the horizon really bothers me in my work. You have to hide it with objects or change the photo in a graphic editor.
Hello Ivan Sm.
I'd like to help you, but I'm not from the D5 Staff.
The horizon you see cannot be changed, and the staf d5 which must improve the Program.
But this is not a problem for me, it is the result that you get that counts with the tricks, which are repeated in any graphics and images program.
For example, I use Archicad for speed and intuition, and I was already using a landscape background, where I erased the blue sky part with Adobe Photoshop, so I always made those parts transparent with Photoshop and saved in the PIG format. to import it into your program. This is also done by other programs, such as 3D max, Blender, Autocad and SketchUp etc …
So these are tricks of the trade, since I have used all of these programs, I continue to use them. Evolving parallel to technology, he is in the field of graphics starting from the Drawing Board to the PC, working patiently with willpower and love for this work.
I love this job, being an architect is not easy, I understand the difficulty, but human ingenuity is the search for perfection gives you the charge to evolve.
Sorry if I went astray, returning to us, if you understood, in 'quotes', you arrive at the solution by yourself to perform your Renderig that satisfies you.
I can tell you that if you go to You Tube you will find many explanations and tricks about D5.
Then I tell you this, D5 Reder is a great program, compared to Twinmotion, Lumion, Enscape and Blender, the last one is more complete, but the staf of the D5 has thought of it with immediate graphics is intuitive, then and fast, if you have a good graphics card like Geforce.
Compared to the others, this program intrigues me a lot, perhaps due to the evolution that D5 is having, and the staff who are good, the Forum which is well organized.
All of this, with the good and the bad of the D5, I'm very excited about.
Sorry I stopped for a while, I salute you IvanSm
(PS) I hope I have helped and encouraged you to see differently to operate in this work.



Hi Oliver
When I talk about the finite HDRI I mean that currently in the environment section, hdri can be applied for light treatment and sometimes as background of scenes but if I zoom out or zoom in that hdri does not scale to depth and it is very problematic for some scenes. In Vray 6 they incorporated a finite hdri option where you can adjust the radius that surrounds the hdri and it is very useful, especially in exterior scenes.

Ok Lily, thank you! This is what we need to improve.
Yes, this would be great to have in order to make some real realistic stuff without a washed out background!
Thank you for the suggestion, we will consider it!