Enjoy Rhino to D5 real-time rendering workflow with D5 Converter.
D5 Converter-Rhino
.3dm files can be imported into D5 Render directly, while D5 Converter-Rhino helps you to achieve real-time synchronization between Rhino and D5.
Download & Installation
Double click on the .rhi file after the download, and follow the instructions to install D5 Converter-Rhino
Read D5 Render Blogs to learn more about D5 Render
Download D5 Render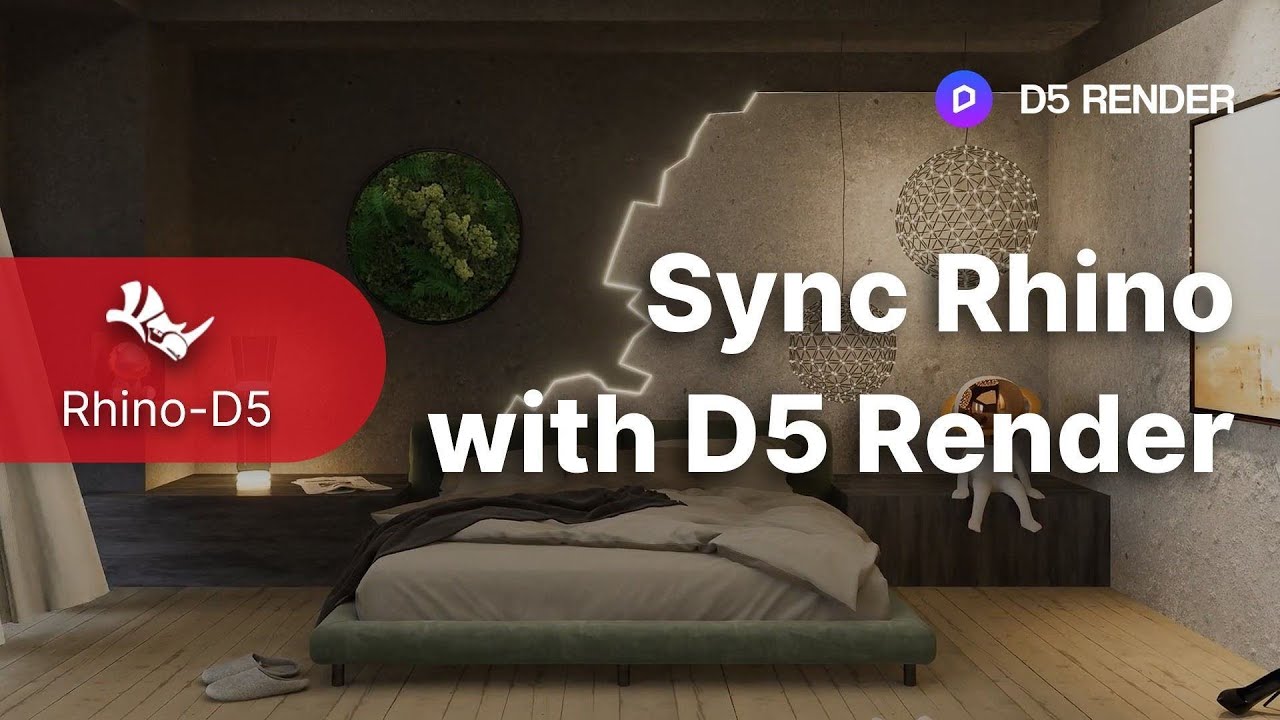 ---
Update
Ver. 0.10.0
Release date: 2022. 10. 25
New and Improvement
New UI and interactive experience
Automatic update optimization — click any button of D5 Converter to trigger the update pop-up
Support Custom mapping, as well as world coordinate system (WCS) mapping method for textures.
Improved material mapping logic
Add [Sync/Update] progress bar data display
Add an uninstall program on the system start menu
Support AMD graphics card
Fixes
Program crashes when synchronizing a very large scene
Installation failure in some special situations
Ver. 0.9.0
Release date: 2022. 4. 26
New and Improvement
Add version information to the command line
Fixes
Emission parameters of custom materials fail to sync
When the base color of the custom material is black, it appears white in D5
When the emission multiplier of PBR is greater than 1, the color difference is large after synchronization to D5
The hidden state of layer is not synchronized to D5
Now D5 converter can sync every curve from different materials correctly.
Ver. 0.8.0
Release date: 2022. 2. 28
Fixes
Fix the issue that sync hangs due to importing model operations.

Fix the issue that textures get lost when a model goes through multiple hide/sync operations

Fix the camera view sync instability under the two-point perspective view
Improvement
The imported lights in D5 Render will not be removed after they are hided in Rhino and synchronized again.

The emission of PBR materials in Rhino can be synchronized to D5 Render as the intensity of emissive materials, and the value is fixed to 10

The converter will not create light groups in D5 until a light object is inserted in Rhino.
Ver. 0.7.0
Release date: 2021. 11. 10
Features
One-click to launch D5 Render in Rhino
Import the new models into D5 Render to start real-time rendering
When a model file needs to be modified during rendering, start sync to create a connection with the original model or replace it with the new model
Model/Material/Scene Sync
After the current model has been edited in Rhino, quickly sync the new model and materials to D5 Render by the Sync button, while keeping the materials and scene parameters that had been adjusted in D5 Render

Support the mapping of PBR materials for Rhino 7
Support the mapping of basic materials for Rhino 6
Support the sync of VisualARQ data

Support the sync of all scenes from NamedView
View Sync
Keep the views of Rhino and D5 Render consistent when syncing
Support one-click to turn view sync on or off
Light Sync
Support the sync of Spotlight, Point light, Rectangular light, and Linear light.
AutoUpdate Notification
Known issues & Solutions
It is not supported to directly sync the world coordinate data for textures' UV, so we need to turn on [Triplanar] for materials in D5 Render manually.
Texture offset is not supported for now.
The orientation of Rectangular lights in D5 Render may not match their source Linear lights in Rhino, which needs to be modified manually.
---
Supported versions
Rhino 6.1 and above