D5 Render 2.4 is finally available! Along with this new version, over 300 new assets have been added to the D5 Asset Library. The long-awaited feature of exporting pak models in groups or saving them to the local library is also supported. Now you can mix and match asets as you like and reuse them anytime.
Click here to learn more about D5 Render 2.4.
Backdrop Planes
New Backdrop Planes in Landscape category to decorate the distant skyline for urban, mountainous, and wooded contexts. You can also use them to create nice glass reflections.
Plants
Hedges are commonly used in architecture or landscape projects. Yet it's hard to create curved hedges with only the Path tool.
Now you can scatter hedge models with "single series" in their names from Nature > Hedge category, set the density parameter, and check "Align to Terrain" to quickly fill the block and create realistic hedges.
37 new animated Macrophanerophytes: Yew, Metasequoia, Euphorbia, Cherry and other trees.
10 optimized plant models: Loropetalum chinense var. Rubrum, Berberis thunbergii var. Atropurpurea, Ligustrum × vicaryi Rehder and more.
Water particles
New realistic water particles in Particle > Fluid, including fountains and water drippings. You can adjust their size, refraction and color.
You can create fountains of different heights and splashes, or rockery streams with water drippings of various widths.
To ensure smooth operation, you can switch on LOD or "Low resource consumption" mode. It affects only preview, not the final rendering result.
You can adjust the "LOD distance" , which refers to the distance between the camera and the model, to decide how far the model is from the camera to begin affecting the level of details.
Subsurface Scattering models and materials
You can find them by searching "sss" or "3s".
Many objects in the real world have translucent materials, such as jade, wax, marble and fruit. It has been a challenge in the CG industry to reproduce this effect in real-time rendering.
To solve this issue, the D5 Team developed the D5 SSS solution(Learn more about D5 SSS) and updated many SSS assets in the D5 Asset Library.
Vehicles
4 new electric vehicles, subway and high speed rail.
You can find models of charging piles in Equippment > Public Facilities.
Color Temperature of Interior Parallax
A new parameter of Interior Parallax: color temperature.
More Character Models
30 slightly moving characters
A new category "Slightly Moving Characters"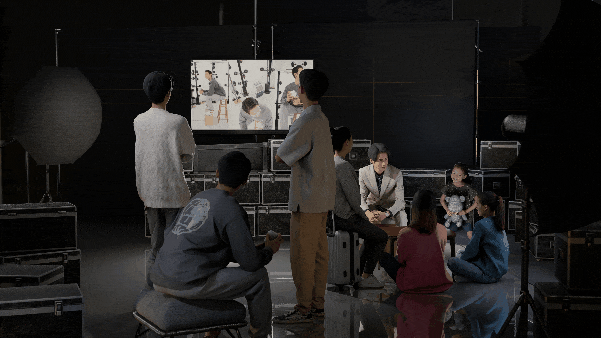 It's widely believed that animated character models, usually made with Skin Mesh, have poorer quality than posed ones. Skin Mesh lacks simulation of hair and cloth, thus having weird clothing wrinkles when the character has big motions.
To solve this issue, the D5 Works Team proposed a new solution: Slightly Moving Characters.
"Slightly Moving Characters" have small movements, waving hands for example, that are close to their posed gestures. This ensures the wrinkles and other details look natural, thus achieving a great visual effect.
This new kind of model consumes fewer resources while keeping both the high quality of posed models and the liveliness of animated ones.
78 posed Asian characters
More models of characters from different regions are coming.
D5 Asset Library keeps pace with D5 Render on the way pursuing realistic visual effects.
To produce high-quality character models, the D5 Works Team used the 3D Scanning tech to ensure their postures look natural.
The clothing details are also well-considered to match the actual dress code. You can choose from models dressing casually or wearing business suits to build different scenes.
60+ optimized animated character models
Some animated character models have optimized motions and postures. Now their pace will match the set rate.