NEW ASSETS ARE HERE!
This time D5 Works has prepared more than 180 assets including animated plant and accessory models, lanterns and decals.
1. 91 new animated plant models
Before making the plant models in batch, the D5 Works Team consulted landscape architects about how the sample model looked and if it worked well in their projects. After rounds of discussion, D5 Works finally built this collection of well-crafted animated plants.

You can find many new broad-leaved trees and shrubs, including Jacaranda mimosifolia, Atropurpureum, Celtis sinensis Pers, Photinia × fraseri and Ligustrum lucidum.
High-precision models, such as Ginkgo biloba L, Cinnamomum camphora (L.) presl, Zelkova serrata (Thunb.) Makino and Ficus microcarpa Linn. f., are rich in detail as they were made from scanned maps of photos.
It's recommended to use them in a close shot. If high-precision trees are used on a large scale, the rendering might slow down as the scene will be heavy on faces.
2. Landscape models
This collection includes road facilities (e.g. street lights and road blocks) and many creative lamps.
42 new lamps with creative looks
Now you can make a more atmospheric scene with new creative lamps looking like wheats, elks or dandelions.
3. Interior lights
28 new modern lights including pendant lamps, down lights and wall lights.
4. Decals
12 new decals including traffic signs, hollow manhole covers and more.
5. Animated models
Custom animated flags and 10 new animated decorations

You can adjust the height of flagpole and customize the flag as you like.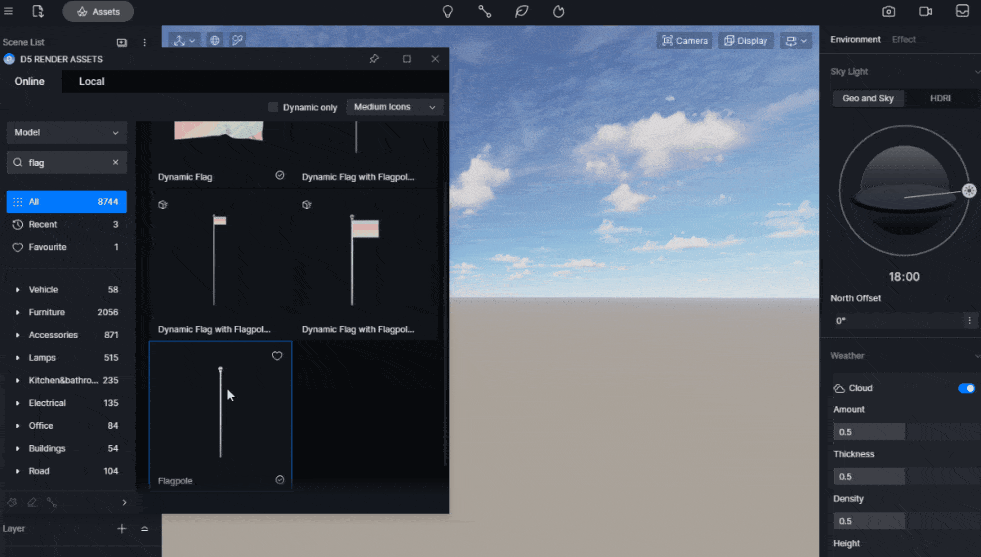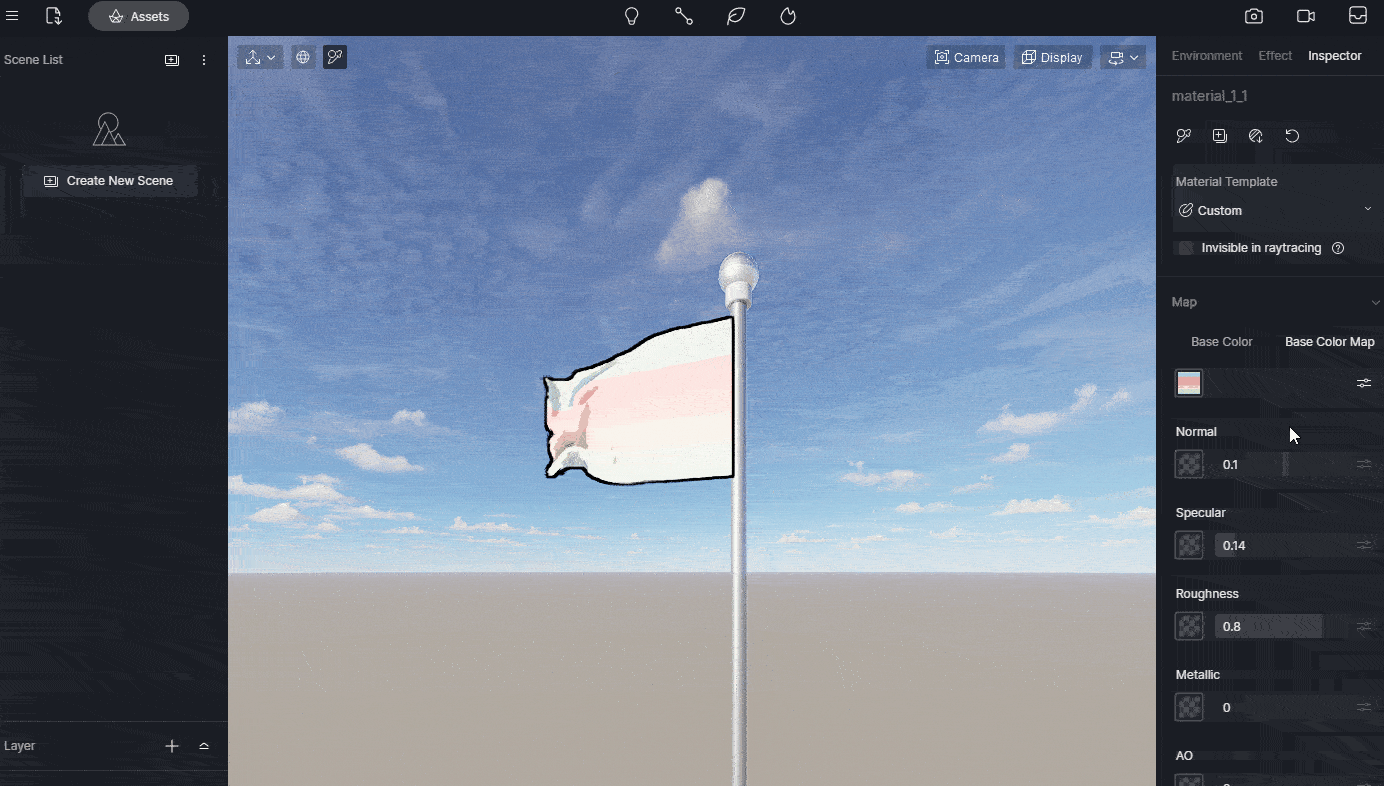 The animated ornaments made by D5 users will definitely add a tint of fun to your scene.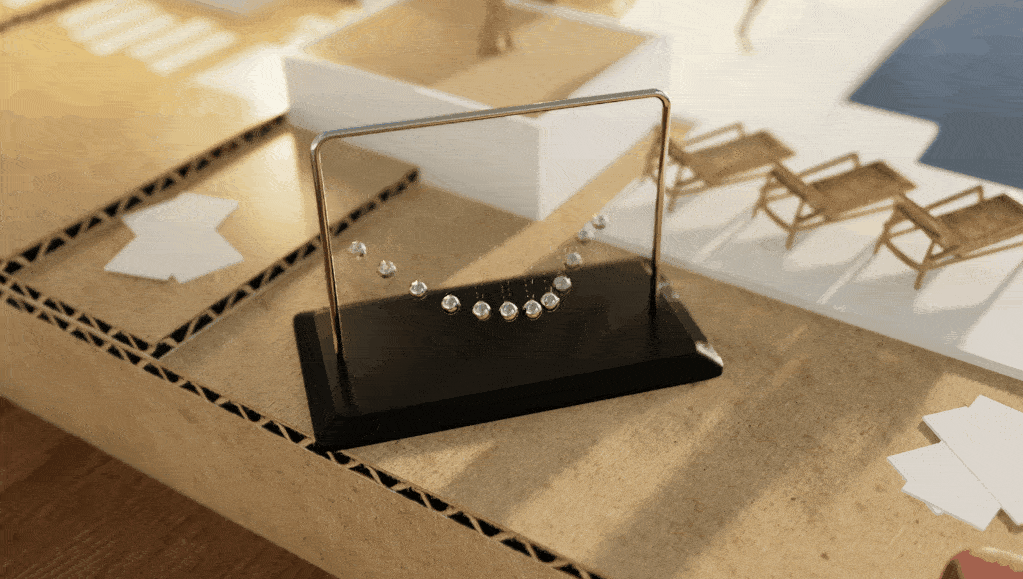 6. Festival assets
To celebrate Halloween, the D5 Team held a special rendering event where users can participate to win D5 Pro. D5 Works updated several pumpkin lanterns as well. More festival assets and events will come in the future.
D5 Works will update more assets with D5 Render 2.4. Stay tuned and you won't be disappointed.
---
Appendix | New plant models
Cinnamomum camphora (Linn) Presl, Ulmus pumila L., Zelkova serrata (Thunb.) Makino, Celtis sinensis Pers., Sapindus saponaria Linnaeus, Acer pictum subsp. mono (Maxim.) H. Ohashi, Sapium sebiferum (L.) Roxb., Ginkgo biloba L., Trachycarpus fortunei (Hook.) H. Wendl., Ficus microcarpa, Ficus virens, Acer palmatum cv. Dissectum, Bauhinia variegata L., Jacaranda mimosifolia D. Don, Ligustrum compactum (Wall. ex G. Don) Hook. f., Viburnum odoratissimum Ker-Gawl. var. awabuki (K. Koch) Zabel ex Rumpl., Acer palmatum 'Atropurpureum', Abelia × grandiflora(Andre)Rehd, Pterocarya stenoptera C. DC., Ilex corallina Franch., Nerium oleander L., Photinia × fraseri Dress, Phyllostachys aureosulcata McClure ' Pekinensis ' J. L. Lu, Salix integra, Citrus maxima (Burm) Merr., Ilex cornuta, Forsythia suspensa, Mangifera indica L., Hibiscus syriacus Linn., Equisetum hyemale L., Taxodium 'Zhongshansha', Phyllostachys nigra (Lodd. ex Lindl.)Munro, Camellia sp.