Hi there,
First, thank you all for always supporting D5 Render and D5 team, which brings unimaginable inspiration and encouragement to us.
In return, we are going to hold more and more activities and events to give back to the community and D5 users. Here are all the events available to get D5 Grains and D5 Pro redeem code for free.
---
1. Write G2 Reviews for D5 Render.
G2.com is a platform where D5 Render can get a lot of traffic and new users' attention. It will help us a lot if you can write a review for us there:
D5 Render Reviews 2022: Details, Pricing, & Features | G2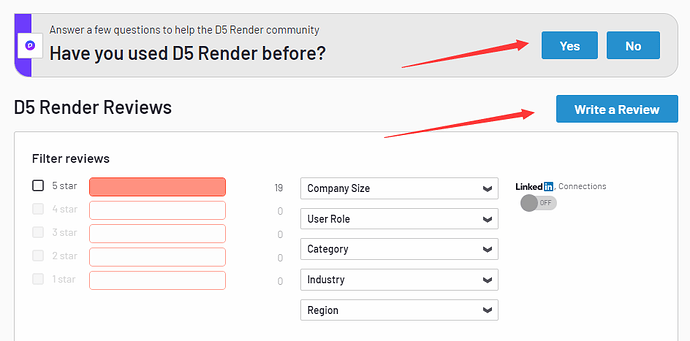 Once the review gets approved, please contact us (support@d5techs.com) to get D5 Grains and one-month D5 Pro license.
It is really important for us, thank you in advance!
2. D5 Reddit community
Posting in our Reddit community r/AllAboutD5Render will have the chance to win one-month D5 Pro as well. Every month we will choose one day and give one-month D5 Pro to users who post in that day as a reward.
3. D5 Referral Program
It is a long-term refer-a-friend campaign, which benefits both referrer and invitee. Welcome to recommend D5 Render to your friends and colleagues.
https://forum.d5render.com/t/d5-invitation-program/8431


4. Animation Making with D5 Render
Now creating an animation no shorter than 10 seconds with D5 Render, you will have the chance to win a monthly D5 Pro.
Please post the animation on YouTuBe with the tag #d5render
#3ds Max/Archicad/Blender/C4D/Revit/Rhino/SketchUp and share it to 3D rendering related Facebook Groups or Reddit communities or to the Quora question What are the most impressive animations you've created with D5?.
We will select one of the participants every month, and provide him/her with 1 monthly D5 Pro.
Yours sincerely,
D5 team