Hi D5 Team,
I am looking forward to exploring the new features of D5 2.3. Congratulations on adding so many new features in such a short time.
I have just had a quick look at D5 2.3 to test the new Custom Pivot Point (Original 0,0,0 Origin Point) feature, but am having difficulty finding out how to change the 'D5 Base/Centre' Origin Point back to the Models original 0,0,0 pivot point.
I have attached an image showing a wall mounted shower seat (Left) and a Lute Pendant Lamp (Right). Unfortunately the shower seat is currently located half way into the wall, and the Pivot Point of the Lute Pendant Lamp is at it's base (not at the top of the hanger where it should be). I have looked at all of the options under the Inspector tab, and have looked through the Preference (inc Widget) options, but cannot find out how to change the origin point. Could you please help me (a 'toggle switch'???) use the new feature?
Also, I was having difficulty selecting both the shower seat and Pendant Lamp together. I tried using the CTL key and also CTL + Click and Drag. Not sure why I couldn't select both objects at once.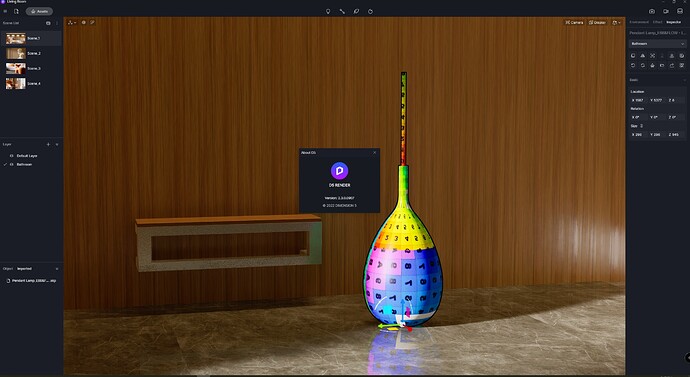 With kind regards,
Leah