D5 Referral Program is a long-term refer-a-friend campaign launched by D5 team. Pro users can refer their friends, classmates or colleagues to try D5 and subscribe to D5 Pro license. Once the referral is successful, both the referrer and the new referred subscriber will receive corresponding rewards.
What is needed to refer friends or get referred?
Currently, there are 3 scenarios:
| Referrer | Referred | Condition | Bonus for Referrer | Bonus for the Reffered |
| --- | --- | --- | --- | --- |
| D5 Pro | Community | D5 Pro Monthly (First Order) | 20 D5 Grains | 5-day D5 Pro |
| D5 Pro | Community | D5 Pro Annual (First Order) | 300 D5 Grains | 30-day D5 Pro |
| D5 Pro | D5 Pro Monthly | D5 Pro Annual (First Order) | 280 D5 Grains | 25-day D5 Pro |
After the referred friend completes the payment, both the referred friend and the referrer will receive the corresponding amount of D5 grains or additional D5 Pro time.
D5 Render global version and CN version hold the event separately.
In the future, we will unlock more rewards for those who refer many new users, not limited to D5 grains!
---
How to refer friends?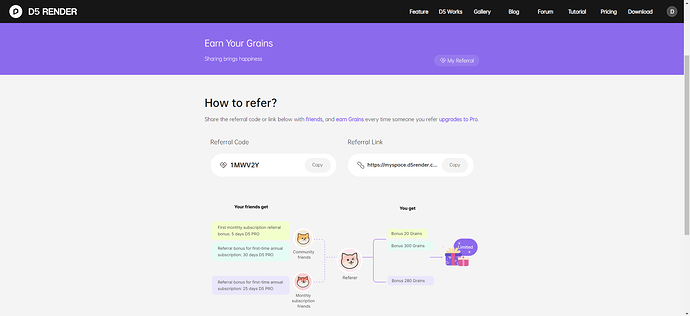 If you meet the conditions for initiating the referral, you can see the referral page in the account center. Click the "Referral" tab to see the referral code and referral link. Click the "My Referral" button to view your referral history.
---
How to use the Referral link/code?
After opening the referral link and clicking on "Referral to Subscribe" , users who are referred will be led to the Confirm Order page. There they can enter the referral code. After successful payment, they can get the corresponding reward.

---
Why don't I have the "I have referral code" button?
This might happen when:
The referred once subscribed to D5 Pro Annual license.
The referred currently owns D5 Pro Annual license.
---
As a software development team, your participation and feedback is the biggest driving force for our continuous progress. We hope that through D5 Grain, our gratitude can be extended to every user who encourages us.
Feel free to share your work or tutorials with D5 Render, and use D5 Grain to redeem gifts you like.
---
Statement:
Participation in D5 Grain is entirely voluntary. Whether you join or not does not affect your experience in using D5 Render.